Welcome
Here at Techmer Nursery we've been growing the highest quality trees, flowers and shrubs for our customers for nearly 40 years! With great products and expert advice, we can help you and your family grow a beautiful landscape and home garden.  We are also a local landscaping company and we offer professional landscaping & planting services. If you need an estimate please stop by our nursery to see all of the exciting options available.  We are located at 4 Alhusen Rd. New Paltz, NY 12561  You can also give us a call at 845-255-7430
Like us On Facebook!
Keep up and get the latest on our specials, new plant selections and Helpful Articles.
Techmer Nursery has an amazing selection of beautiful fall color trees available to plant in your yard.  Below are photos of Ginkgo Trees with a beautiful & brilliant sunshine yellow autumn leaf color.  During the growing season they show off their fan shaped green leaves and have a unique growth habit.
Read More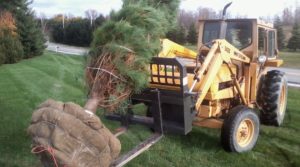 At Techmer Nursery we plant Spruce and Pine trees for privacy screening to help block unsightly views of your neighbors and roadways. The size of the trees planted will depend on the customer's budget.  The minimum size that we plant is 4-5ft. Spruce Trees.  We can source larger 8-10 feet trees too.   If you…
Techmer Nursery
Loacation: 4 Alhusen Rd. New Paltz, NY 12561
Mail: P.O. Box 349 Modena, NY 12548
Phone: 845.255.7430
Send Us a Message
Please note that we carry many varieties of plants that do well in the Hudson Valley.  We do not do special orders for individual items.  Please stop by our nursery to view our inventory. Thank You.