Local Nursery and Garden Center
We have been growing trees, shrubs and perennials in our nursery locally in the Hudson Valley since 1974.  Our production nursery also doubles as a retail garden center and you can select plants right out of our green house. We carry many varieties of plants that are not found at big box stores or smaller boutique garden centers.
If you are looking for edible fruit bearing trees and shrubs for your organic garden we have apples, peach, cherry, plum and pear trees.  We also have blueberry, goose berry and service berry shrubs available.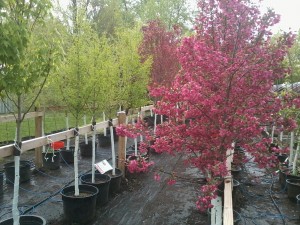 Our trees are grown in easy to handle 10 to 15 gallon containers.  We have 65 varieties of trees in our inventory like Ginkgo, Oaks, native Sugar Maple, native red bud, Weeping Willow, Ivory Silk Lilac & Heritage River Birch. There are many other tree varieties to choose from as well and we do offer a local delivery service.

Our Trees are watered by our a drip irrigation system.  We can water over 100 trees on a single line. This is an Eco-friendly option because it conserves water.  They are spaced and professionally pruned to achieve proper canopy growth and structure. We also manage the nutrient levels in our container mix to create a strong & healthy root system for all of our trees.
We also have over a 100 varieties of shrubs like native Service Berry, Lilac, Hydrangea and other container shrubs that are currently in production.  We continue to grow select varieties of perennials like Echinacea, Blackeye Susan, Russian Sage, Sedum, Maiden Grass, native Sedge, Fountain Grass, and Karl Forester Grass.  If you are looking for an uncommon  variety please call or email us for availability 845-255-7430.